How Poland is becoming one of the most intolerant countries in Europe
---
Most people are aware of the danger the LGBTQIA+ community faces in Russia, the recent ban on trans people serving in the US military forces, or the transphobic discourse currently overtaking twitter – but there is nary a mention of the ticking time bomb that is the introduction of Poland's 'LGBTQIA+ ideology' free zones. It is time to change that.
---
How did this start? The zones were created by the Polish public in reaction to Rafal Trzaskowski's (the leader of Poland's Civic Platform (PO); currently the opposition) signing of a pro-LGBTQIA+ declaration. The zones are not legally recognised but are seen as symbolic. LGBTQIA+ people are not legally barred from entry to these zones, but they have been established by the local authorities to send a message:
"you are not welcome here".
It's worth noting that the campaign initially didn't include the term "ideology"; this was an amendment that was introduced due to Bart Staszewski taking the newspaper distributing 'LGBT free zone' stickers to court. The Warsaw District court placed an injunction on them, as Bart won the case on the grounds that the stickers imposed on human dignity.
An ideology is defined by the Cambridge English dictionary as "a set of beliefs or principles, especially one on which a political system, party, or organisation is based", whereas it is defined by the Polish Language dictionary as "a system of views, notions, ideas of a unit or group of people". From the contrasting definitions, it can be clearly seen that LGBTQIA+ identities are being considered a choice – due to this the Polish public fundamentally misunderstand the LGBTQIA+ community. For one, the community does not have a well-defined set of parameters to follow, and there is no right way to be LGBTQIA+.
Not only that, when talking to various members of the community and reading the various manifestos of LGBTQIA+ organisations, there are a few common traits they tend to promote: respect, dignity, and self-acceptance. As such, to be 'anti-LGBT ideology' is to say that not everyone deserves respect, not everyone deserves to be treated with dignity, and not everyone deserves to accept themselves for who they are.
One of the most prominent arguments against 'LGBTQIA+ ideology' is that Poland is a Christian country, majority Catholic to be precise, and as such they take a 'pro-family' stance. The Catholic Church varies in its support of LGBTQIA+ individuals; it ranges from providing unconditional love and acceptance in some parishes to a strict stance of viewing it as immoral. Officially, Catholicism condemns being LGBTQIA+ stating that:
"Although the particular inclination of the homosexual person is not a sin, it is a more or less strong tendency ordered toward an intrinsic moral evil; and thus, the inclination itself must be seen as an objective disorder."


Human Rights Campaign. 2018. Stances Of Faiths On LGBTQ Issues: Roman Catholic Church | Human Rights Campaign
This is the view shared by the majority of the Polish public, including the authorities. The extent of the ingrained homophobia can be seen in the extent to which people will go to in order to suppress any fight for LGBTQIA+ rights. What happens when a Polish politician attempts to support the community?
"a man fatally stabbed the Mayor of Gdańsk, Paweł Adamowicz, during an annual charity event. The mayor was known for his support of LGBTI rights and openness towards refugees and migrants."


Amnesty.org. n.d. Everything You Need To Know About Human Rights In Poland.
Even though the zones are merely symbolic now, it does not mean there will not come a time when they may become legally enforced. Poland has demonstrated consistently that they are not afraid to violate the rights of their LGBTQIA+ citizens; their freedom of expression, freedom of assembly. All these basic freedoms have been violated by by the country's government officials.
Poland's first Pride parade wasn't organised until 2005, and even then it was an illegal march. Since then, smaller parades have been met with physical violence, including stoning. This isn't a matter of the past. As I attended the 2019 London Pride parade with my friends, donning face paint and glitter, a few days later the parade-goers in Poland's Bialystok were victim to life-threatening violent attacks. The people attending were assaulted before, during, and after the march. There were bottles and stones thrown, and people were spat on and punched.
For the people in Poland pride parades are not the parties the western world is coming to associate pride parades with, they are closer to the original Stonewall riots. Why was this allowed? For one, there is no legislation in Poland protecting LGBTQIA+ individuals from hate speech and even hate crimes. No wonder up to 70% of LGBTQIA+ people in Poland have experienced violence.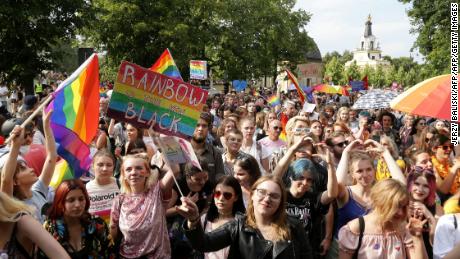 The truth is it is not only the authorities who are failing Poland's fight for equality, it's the citizens too. There is a reason why the politicians are being crassly open regarding their anti-LGBTQIA+ views: the people support this. Even if nearly half the country are in favour of legalising same-sex civil unions, more than half continue to view being gay as unnatural and immoral.
Ultimately, what the people of Poland cannot see is the slow return of fascism in their country, and their facilitation of it. Fascists once marched onto Polish soil and imposed their ideology on the population, but now the fascists attend Sunday Mass and use their religion to justify their despotic views. In a country where concentration camps that slaughtered between 10 and 15 thousand allegedly gay men still stand for everyone to visit, homophobes can walk down the street without anyone blinking an eyelid. It may seem subtle now, but all great fires start with an ember.
---
External pressures have not yet been applied in an attempt to being to rectify the current situation, as a result of the developing COVID-19 pandemic. The Polish government's actions are in effect being hidden by a much larger global problem. This should not be allowed to continue. Please consider signing the available petitions to help aid LGBTQIA+ people currently living in Poland in their fight to gain basic rights.
https://www.change.org/p/mateusz-morawiecki-pass-laws-that-would-protect-lgbt-people-in-poland-and-abolish-current-anti-lgbt-laws
https://action.allout.org/en/a/poland/
https://secure.avaaz.org/campaign/en/poland_lgbt_crackdown_11/
---
There are some people who doubt the legitimacy of campaigns for LGBTQIA+ rights in European countries, but that's because they aren't looking close enough. I might never introduce my girlfriend to anyone in my family but my mother. I will probably have less than half, if not less than a quarter, of my family at my wedding. This wedding would be considered unconstitutional and illegal by my home country. What wouldn't be illegal would be sending my child to conversion therapy, that is – a theoretical child as same-sex adoption is not only illegal but seen as immoral by most of Poland.
Thank you for reading
-Weronika
---
References
[1] Amnesty.org. n.d. Everything You Need To Know About Human Rights In Poland. [online] Available at: <https://www.amnesty.org/en/countries/europe-and-central-asia/poland/report-poland/> [Accessed 12 June 2020].
[2] Human Rights Campaign. 2018. Stances Of Faiths On LGBTQ Issues: Roman Catholic Church | Human Rights Campaign. [online] Available at: <https://www.hrc.org/resources/stances-of-faiths-on-lgbt-issues-roman-catholic-church> [Accessed 12 June 2020].
Bibliography
Equalityhumanrights.com. 1998. The Human Rights Act | Equality And Human Rights Commission. [online] Available at: <https://www.equalityhumanrights.com/en/human-rights/human-rights-act> [Accessed 12 June 2020].
John, T., 2019. A City's First Pride March Was Meant To Be A Day Of Joy. The Far Right Turned It Into Chaos. [online] CNN. Available at: <https://edition.cnn.com/2019/07/28/europe/bialystok-pride-lgbtq-far-right-intl/index.html> [Accessed 12 June 2020]
Hmd.org.uk. n.d. Holocaust Memorial Day Trust | Gay People. [online] Available at: <https://www.hmd.org.uk/learn-about-the-holocaust-and-genocides/nazi-persecution/gay-people/> [Accessed 12 June 2020]..
International Observatory of Human Rights. 2020. Poland'S 'LGBT-Free Zones' Pose An Eerie Threat To Equality In Europe. [online] Available at: <https://observatoryihr.org/blog/polands-lgbt-free-zones-pose-an-eerie-threat-to-equality-in-europe/> [Accessed 12 June 2020].