The situation regarding LGBTQ rights in Poland has reached a boiling point; since my last article on Polish "LGBT ideology-free zones", a lot has happened.
The anti-LGBT zones remain firmly established across the country, with an attempt made by the EU to refuse funding under the twinning programme to 6 cities enforcing the anti-LGBT sentiment. While the funding is not going to come from the EU, it is going to come from within the government's Justice Fund as promised by Justice Minister Zbigniew Ziobro. An equivalent of just over £50,000 of government funding is being used as a statement: they will not back down. Their priority is unwavering, as they continue to support and propel the bigotry of its citizens.
While this may not be a major concern to a lot of people, I am deeply afraid as to what this means for the future. One could consider this as an accurate foreshadowing of what would happen should formal sanctions be put in place. The government has no intention of yielding now, and there is no reason why that would change in the future.
However, much more radical action has been taking place in the heart of Poland itself. An anarcho-queer feminist collective named "Stop bzdurom" [Stop nonsense; alternatively Stop bull****] begun to protest. Rainbow flags were placed on Polish monuments, and trucks donning homophobic messages were defaced, stopped, and reported to the police. This has resulted in the arrest of two activists: Margot and Lania, who were charged with defacing monuments. The arrests didn't end there; in what has been considered by Polish ex-policemen as an error that unnecessarily escalated the situation, 48 individuals were arrested in a chaotic and brutal round-up. Protesters and simple pedestrians with rainbow bags were exposed to police brutality, aggression, and excessive force in a demonstration of power and control over the LGBTQ community.
Even those sympathetic of the LGBTQ in Poland has considered the actions taken by "Stop bzdurom" as potentially unnecessarily provocative. I don't share this view. Poland currently ranks the lowest out of all EU countries on the ILGA-Europe Rainbow Map and Index of 2020, making it the least LGBTQ inclusive country in the union. Marriage equality? None. LGBTQ individuals are not even protected from any type of hate crimes under any form of legislation. Any attempt made to bring visibility to the community brings attention to our current legal standpoint. It brings attention to our current plight and pain. It brings hope that someone will take action. As news spreads protests have begun to, and continue to, take place internationally. London. Berlin. Possibly your local Polish embassy.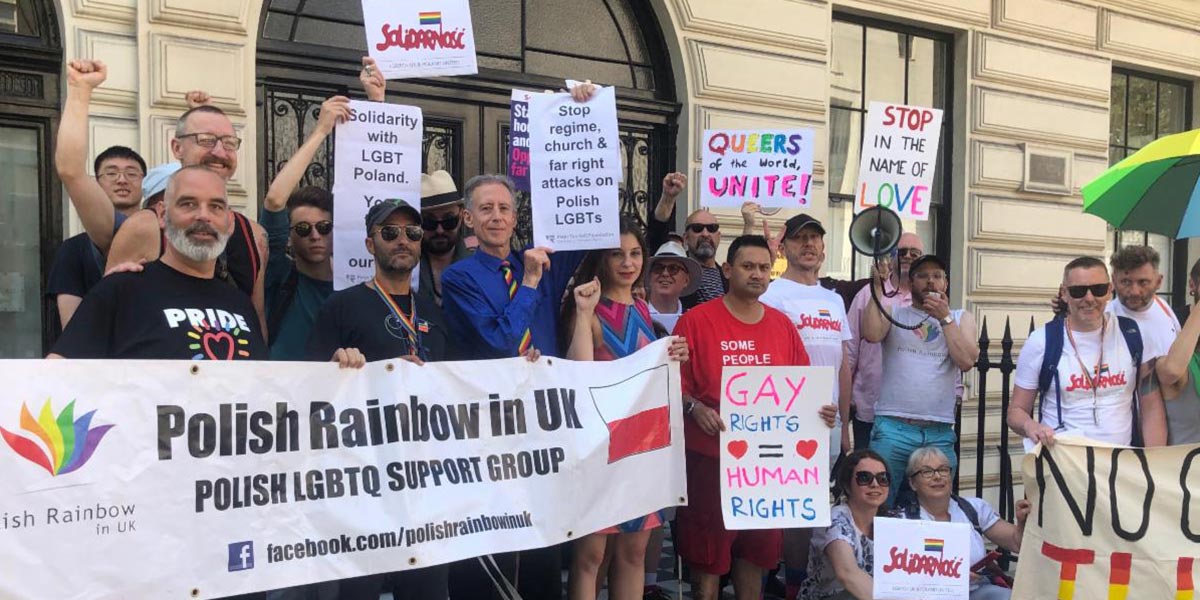 ---
I have a lot of feelings regarding the current situation, but the one that resonates the deepest is fear. What do I do if I want to visit my family? Do I need to go back into the closet to pass as heterosexual and cisgender? If I walk down the street, will anyone know that I am part of the community they are so insistent on ostracising and brutalising? Or worse, if they can tell I am queer how severe of a hate crime will I suffer? Even abroad, I am scared to walk into a Polish owned shop in the fear that the owners will be able to recognise that I am queer, resulting in unpleasantness. The country I lived in as a small child, whose language I continued to learn, whose culture I continued to cherish and educate anyone who would listen about, has waged a war on my identity and it feels like the outcry for change is falling on deaf ears.
Writing this has not been easy. I've spent as much time writing as I have crying, but I view it as a necessity. It is necessary to spread the news of what is happening to gain the support of as many people as possible. It is necessary to share the pain of the LGBTQ community in Poland so that people don't become disillusioned by the equal-rights legislations of other European countries. It is necessary to let people know how the Polish queer community feel at this time because our country is not listening to our suffering.  
---
Here is a wonderfully prepared list of resources that you can use to help the LGBTQ community in Poland:
---
References:
Charlish, A., Florkiewicz, P. and Plucinska, J., 2020. Polish 'LGBT-Free' Town Gets State Financing After EU Funds Cut. [online] Reuters. Available at: <https://www.reuters.com/article/us-poland-eu-lgbt/polish-lgbt-free-town-gets-state-financing-after-eu-funds-cut-idUSKCN25E1QP> [Accessed 26 August 2020].
euronews. 2020. EU Funding Withheld From Six Polish Towns Over 'LGBT-Free' Zones. [online] Available at: <https://www.euronews.com/2020/07/29/eu-funding-withheld-from-six-polish-towns-over-lgbtq-free-zones> [Accessed 26 August 2020].
Front Line Defenders. 2020. Two LGBTI+ Rights Defenders Arrested. [online] Available at: <https://www.frontlinedefenders.org/en/case/two-lgbti-rights-defenders-arrested> [Accessed 27 August 2020].
Gera, V., 2020. Protesters Decry Government's Anti-LGBT Attitudes In Poland. [online] AP NEWS. Available at: <https://apnews.com/05c628a726ecbb83c106161ce26a9ce6> [Accessed 27 August 2020].
Ilga-europe.org. 2020. Rainbow Europe 2020 | ILGA-Europe. [online] Available at: <https://www.ilga-europe.org/rainboweurope/2020> [Accessed 27 August 2020].
Mikołajewska, B., 2020. Akcja Jak Prowokacja. Błędy Policji Eskalowały Protest W Obronie Margot – Uważają Ex-Policjanci. [online] oko.press. Available at: <https://oko.press/akcja-jak-prowokacja-protest-w-obronie-margot/> [Accessed 27 August 2020].
Rainbow-europe.org. 2020. Rainbow Europe. [online] Available at: <https://rainbow-europe.org/#8653/0/0> [Accessed 27 August 2020].
---
Written by Weronika Matczuk